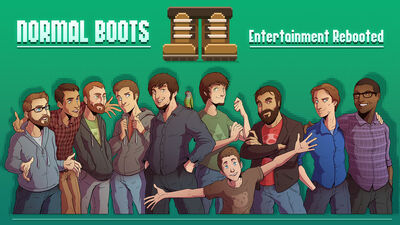 Normal Boots is a website that began the careers of JonTronShow, PBG, The Completionist, and Continue?.
History
Normal Boots began with JonTron and PBG as the first shows that were featured on the site.  The Completionist and Continue were added on at a later date.  Each video began with the logo advertising the site.  The videos were mainly uploaded to Youtube or Blip and then linked to the site.
More shows were later added to the website, like Indie Games Spotlight and Did You Know Gaming.
Closing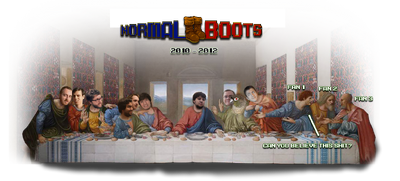 Normal Boots was later closed due to Jon and the other members seeing how Youtube was a better way of being paid by posting their reviews.  The website was closed down with a picture of the Last Supper with Jon in place of Jesus and the other shows casts behind the disciples, with three of the disciples as angry fans saying "Can You Believe This Shit"[1]  The website is still available to view with links and by use of the wayback machine.
Reopening
On January 25, 2014, Jon, Austin, Jirard, and the Continue? crew relaunched the site with new art, a new logo and exclusive videos.  Their reasoning for relaunching the site is due to Youtube's copyright infringement.  New shows have been added to the website, such as ProJared and Satchbag.  A new format is used on the website to make it easier to use and features more pixel art than before.
Shows
Trivia
Caddicarus originally wished to be a part of Normal Boots, but the site closed down before he was accepted or if he was going to be accepted.  He has however done a crossover with The Completionist, someone who supported the site.
Indie Games Spotlight is the only show that does not return to Normal Boots since its return.
Links
Reference